Well lets start from the top shall we?
I believe it was the middle of october when I picked this baby up. A very nice custom canopy and stand with bamboo inlaid on the doors. The color is a weird green/brown but it's actually quite nice. For 200 dollars I picked up a 55 gallon tank, stand, canopy, 4x55w PC light, wet/dry, overflow box, and other misc items, although some found their way to the trashcan quite quickly (Seaclown). This is my first saltwater tank experience and it has definitely brought some bad times but in the end it's alllll worth it!
Here is the initial set up after my cycle.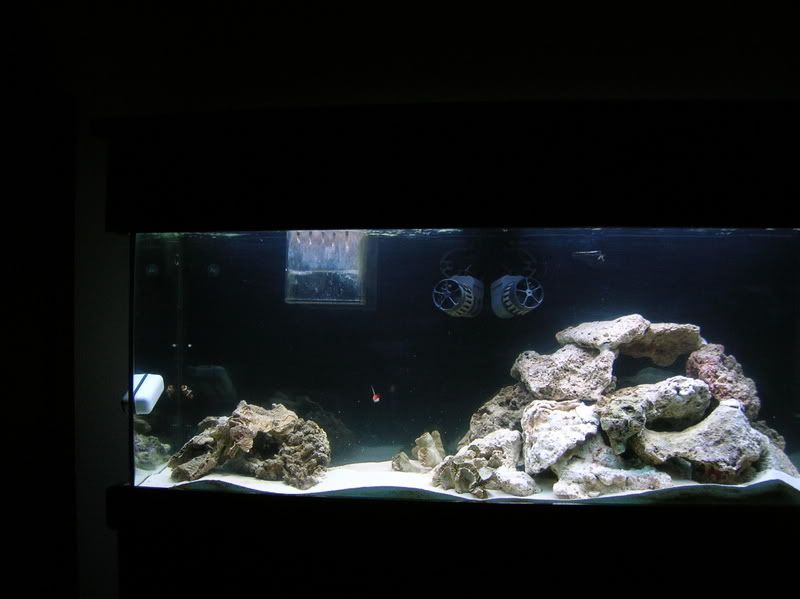 After much deliberation, I decided to remove the wet/dry and install a "mini fuge" out of a 10 gallon and run skimmerless until december when I could get one xmas.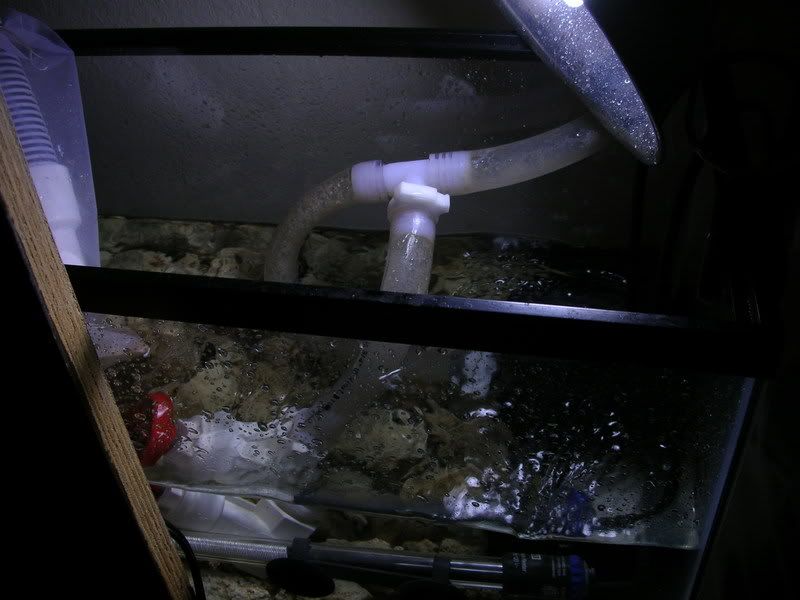 Here are a couple misc. shots.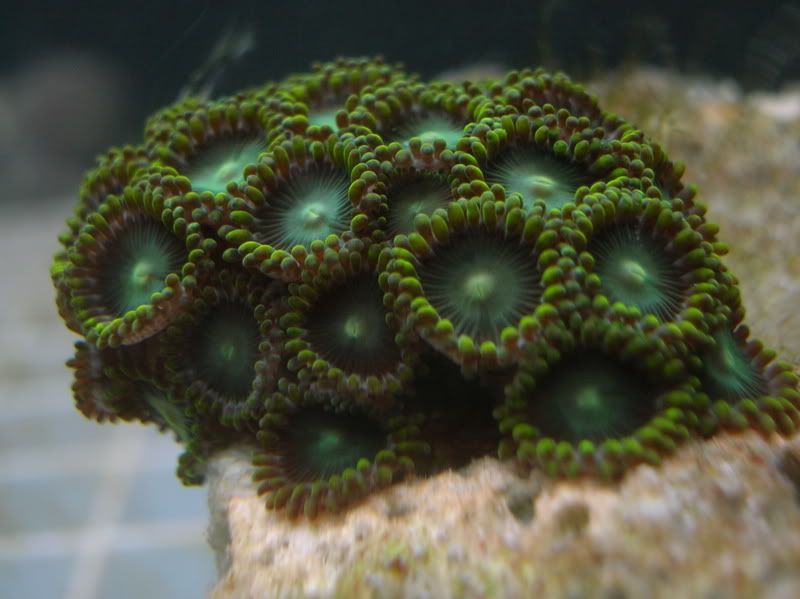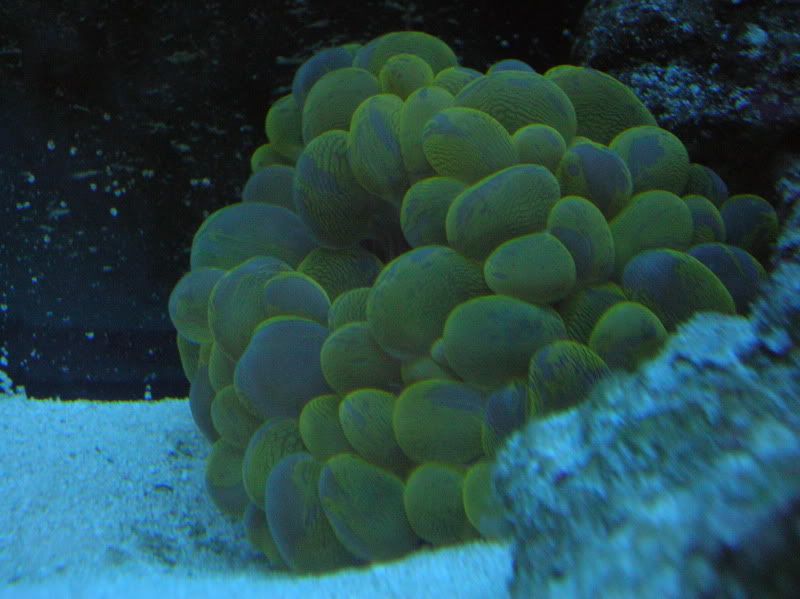 Now that I have a skimmer (swc xtreme 160), I'm waiting to set up a new refugium (20 long). I was running the skimmer in the 10 but unfortunately I cracked the baffle
Here is the tank as of last month.
Right side: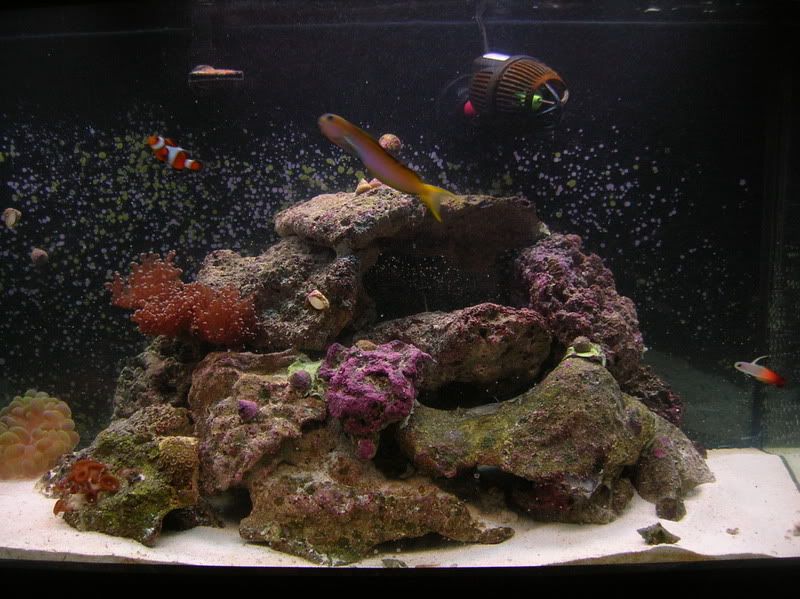 Left side: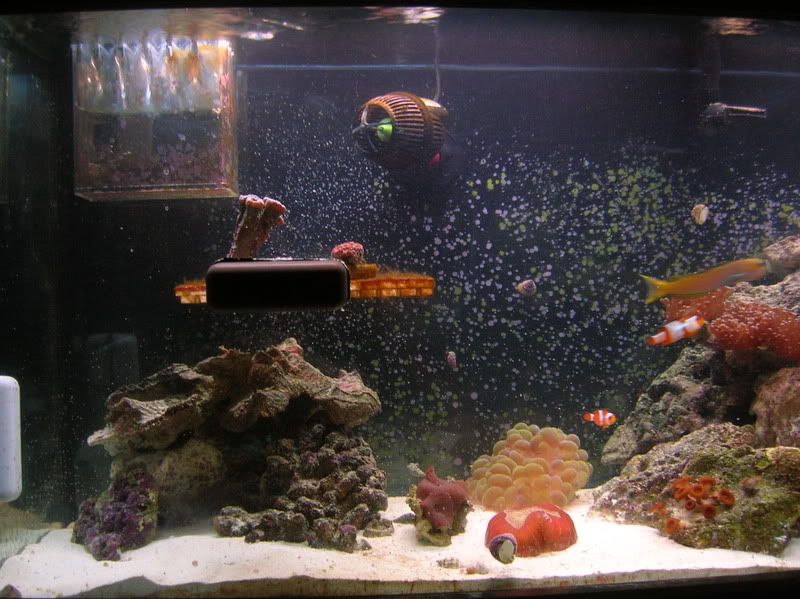 I will also be installing some new lights that I purchased for my birthday. The setup is the 4x54w t5ho retrofit from reefgeek. I will post more on that as the next weeks come.
Equipment:
Lighting: Currently - 4x55w PC's To come: 4x54w t5ho retrofit w/ icecap slr reflectors
5 Current lunar light/links in Nocturnal Blue
Bulbs:Blue Plus, UVL 75/25, UVL Aquasun, Blue Plus
Skimmer: Swc Xtreme 160
Fuge: Custom 20 long
Reactor: Via aqua poly reactor
Media: Seachem Seagel
Pump: Ca1800
Pheads: 2 Koralia 2's
Heater: Ebo Jager 150
Livestock:
Midas Blenny
2 Occelaris Clowns
Red Firefish
Skunk Cleaner
Peppermint Shrimp
Conch
Various Snails
Green Bubble Coral
PPE palys
Red w/ blue speckled & white spotted mushrooms
Green striped mushrooms
Red outer/Green & Purple inner Trachy
Green Frogspawn
Various Zoanthids
Green Ric's
Purple Gorgonian
Green & red Acan's
Tank params:
Only additive is calcium due to the bad batch of reefcrystals salt that has been circulated
10% changes weekly
Temp constant at 80.2 throughout the day
Salinity @ 1.026