Discussion Starter
·
#1
·
Ok, I am selling my Metal Halides :bigeek:
I am selling my metal halides because I am converting to LEDs and I don't think my wife will let me keep them in the closet. I would keep them but the closet if full of skimmers.:lol:
OK, this is what I am asking for the full set as I really do not want to part them out. The set should cover anything from a 3 foot tank (40g, 65g) to about a 5 foot tank as the pendents have a decent spread considering how focused the Lumenbrights are for MH.
I am asking $600
for both pendents together with ballasts and bulbs.
Now, I am not parting them out but I will show you how I broke it down so you can get a good comparison of these top-end lights.
Lumenbright Pendents 250w/400w DE pendents.
Retail $160, Asking
$125
each
Lumentek Ballasts Selectable wattage 250/275/400/440w:
Retail $189 each, Asking
$140 each

Phoenix 250w 14K DE bulbs (used 4 months, 6.5h photo period, never overdriven):
Retail $65, Asking (pro-rated for uses)
$35 each
These are top-shelf light that have put together that will give great growth to corals. These light also do not put a lot of heat into the tank, I have never ran a chiller on a 65g despite these lights. All components are in excellent shape. The only "ding" is that one of the pendents hanging loopholes has been permanently set into the pendent. It was a slight defect in the screwthread for the hook that I did not return the entire fixture for, but rather mended it myself.
Here are the pendents over my tank: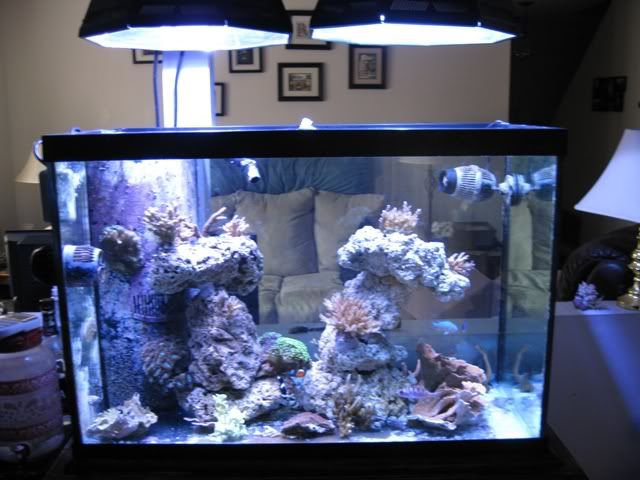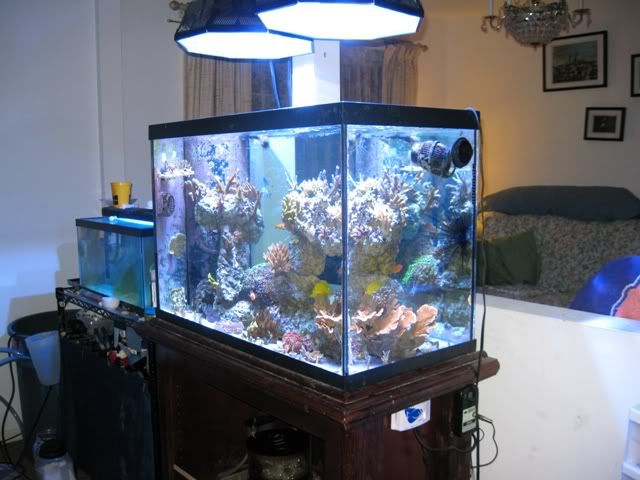 Here are the ballasts: