Well, it's time for me to start my own tank thread. Here it goes:
Valdosta, GA
100 Gallon Reef
3-110Watt VHO (I change bulb configuration to suit my needs)
200 Lbs Live Rock Figii, Tampa Bay, and I don't know what else.
75lbs sandbed w/a little crushed shale mixed
Skimmer-Never Used
Sterilizer-Turned off temperarily to test my Tang Theory
Wet/dry-Pulled it out to make room for a much larger sump
2400GPH Mag Drive 24
2-Penguin Powerheads
Fish-Minimal Bioload Few Tangs, reef fishes etc.
Corals-A lot of these I don't know the names, but here are their descriptions:
Eagle Eye Zoos
Extreme Eagle Eye Zoos
Tubbs Blue Zoos
Red and Orange Zoos
Electric Green Zoos with brown fringe
Electric Green Zoos with Green fringe
Orange and Green Zoos
Gold Zoos
Pink Zoos
Pink and Purple Zoos
Red People Eater Zoos
Hunter Green Zoos with pink dots
Green and Purple Zoos
Brown buttons with green centers
Brown Zoos with green centers
Multi color zoos (hard to describe)
Brown zoos with either gray or blue centers
Green Cloves
Green Star Polyps
Snake Polyps
Yellow Polyps
Electric Green Mushrooms
Blue Green Mushrooms
Red Green Mushrooms
Bullseye Mushroom
Florida Ricordia
Teal Ricordia
Green Ricordia
Green and yellow Ricordia
Leather
Green tree leather(I think)
Red (looks like brain but cannot confirm its in my pics)
Branching Sunflower
Green Candy Coral
Purple and Green Candy Coral
Peach Montipora
Yellow Montipora
Green and Red Acro
Green Slimer Acro
Gorgonia (I think)
And countless purple/green hodge podge ricordia
This 100 gal has only been set up as a reef for 1 week. The LR and LS are about 6 years old. All corals have been under my care for a maximum of the last 9 months. This Reef was a product of two reefs I bought to rehab. 1 was a 72 Bow and the other was a 75. Both were about 6 years old and suffered hobby neglect. I am new to the whole reef experience and have been lucky to have only lost 3 corals thus far. Here are some pics I snapped tonight right after I re-aquascaped it as a result of me inherriting some LR. I will post better pics with better bulbs very soon.
IMG]http://i140.photobucket.com/albums/r30/Raycityboy1/100%20Gal%20Reef/100GalReef41.jpg[/IMG]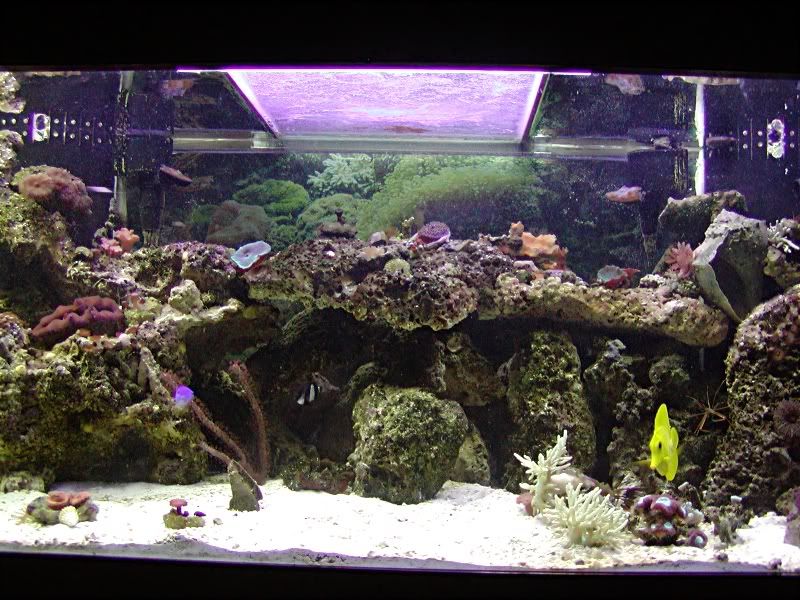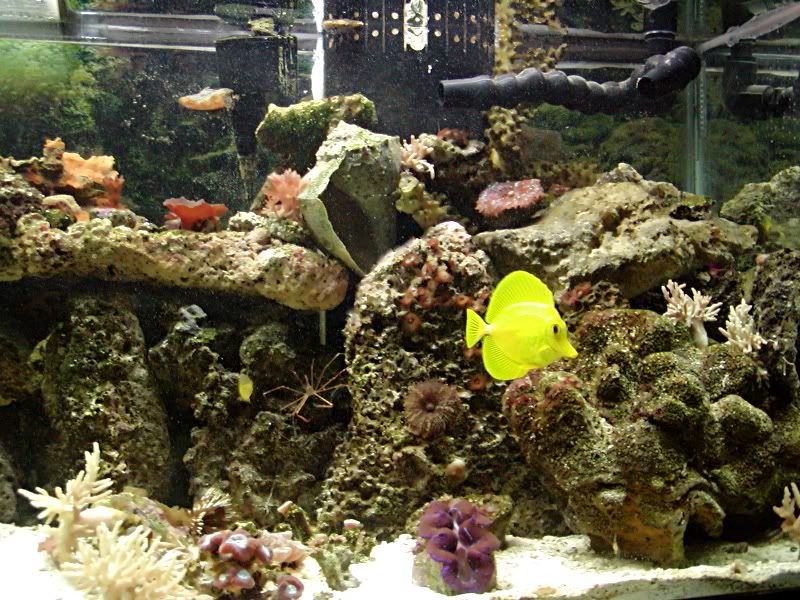 Tang picking through my Candy Coral Forest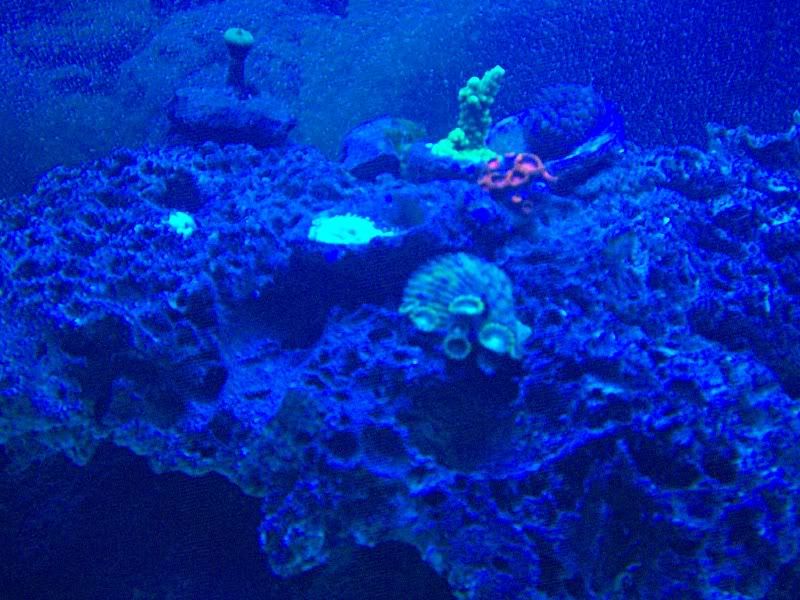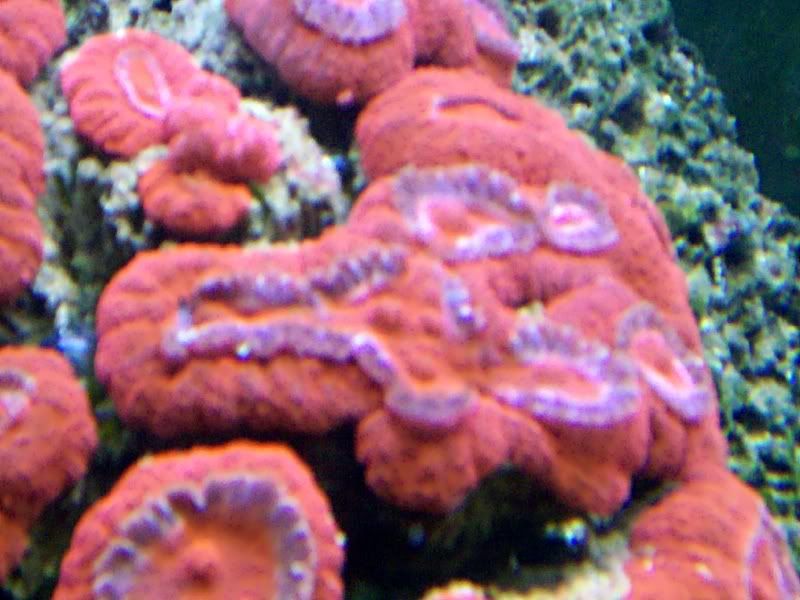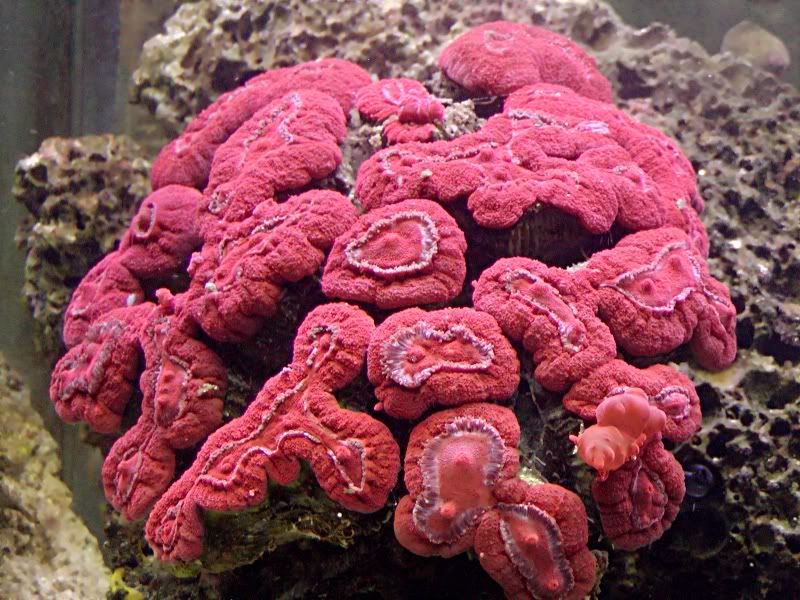 http://s140.photobucket.com/albums/r30/Raycityboy1/
To see my full Albums.