Discussion Starter
·
#1
·
Well, today was the day I was able to finally go pick up my new addition. Bought it off Craigslist for $100 site unseen. When I got to the guys house, I didnt expect what I got. Pix dont do this justice and it is dirty/needs a little work. Guy received it as a trade for some lights and his wife told him the tank had to go. Long story short, his loss my gain.
165 Acrylic tank that HAD the
overflow
on the side. He removed it because he said it looked ugly. I'm wondering if I can put one back in if that's even possible, maybe build it in there. The P/O also painted the back of the tank but it has started to peal and come off, so I would need to clear it and repaint prior to moving it in the house.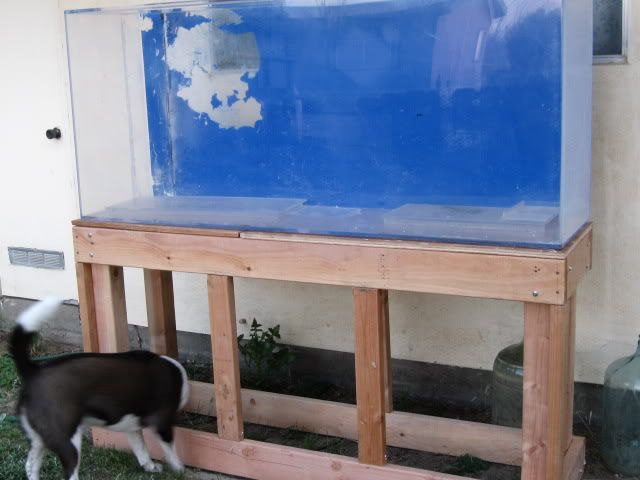 There were two 1" holes drilled in the bottom for the return lines that he also covered with acrylic. Debating if I should remove that and cap with plugs or would that hold.
The tank looks a bit rough now, but its dirty and been sitting for a while. I need to finish closing or capping off the last hole (where the overflow was on the side) or use it if I can get an overflow in there, I can probably build one to be honest.....
The stand, that's another story. He built it and he tried to build it to withstand the weight I guess. Used bolts and I'm sure you can see them in the pic on the stand. Bit of an eyesore, but
Japonicus
has his build thread that I can snipe info on making it a real stand when I'm done with it. So much to do and I hope I dont have to make 212,629 trips to the local hardware store like fsureefer did, specially when its an hr drive to the nearest and back!:lol:
Oh yeah, Also included was a Megaflow sump & Rio 1700 pump, both new (pic not actual sump but one I found on the net that looks identical.)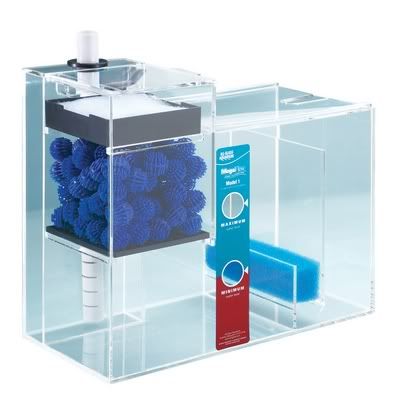 and a 40 gal Sea Reef sump and a lot of the piping/tubing for them, plus about 20 lbs or LR rubble and other stuff I still have yet to discover.
So before I go all GUNGHO! on this build, should I be worried about the holes that were drilled in the bottom, will they leak in the long run? That's the last thing I need is the salt to break down the acrylic concrete and bust flooding my computer room. He used "IPS WELD-ON #16 Solvent Cement for Joining Acrylic". I see some people have used it for tanks, but is it enough to hold over time? I see people saying 40 is better.
Well, been a long day, sun wasn't in my favor and now I'm tired as heck. Time to go watch some TV and hope tomorrows a better day:blob: