Discussion Starter
·
#1
·
So I have assembled the majority of the equipment for my next tank build, the 40 gallon breeder.
Tank
I obtained the tank from Matt @ Olde Towne Pets pre-drilled and setup with an Aqueon Mega-Flow Sump system. For now, I am not using any sort of background as in the future it may be moved to create a 'peninsula' tank.
Sump
For the sump, I am using a 20L that I had previously used on another system. The sump consists of the intake/skimmer chamber, fuge/equipment chamber, and the return pump chamber.
I am using a Maxi-jet Utility 3000 pump that puts out about 500 GPH at 4 feet head-loss. For the beginning of the build I will be using flexible tubing with a control valve in-line to help tune the right amount of flow through the system. If I decide I can use the excess flow elsewhere, I will plum in accordingly.
The protein skimmer is a PSK-100 that I also have from a previous build. I know some of you will joke about its abilities, but as long as you tune it right, it provides some disgusting skim. For this build I am planning on doing more frequent water changes and therefore I will be depending on that along with a healthy amount of live sand/rock to do the majority of the filtering. I do not plan to use many additives unless it is absolutely called for as I feel the water I change should supply most of what is needed.
Lighting
Lighting was one of the biggest struggles I had with the 90 gallon because of its depth. For this build, I have decided to stick with a AquaticLife 4x39 watt system with built in timer. This unit has some decent reflectors in it that I hope will help make up for the lack of wattage. Here again, I know some of you may chirp in and say I should go with a single MH with some T5 assist, or go with a 6 tube fixture but both would not work for the area the tank is currently in. The 6 tube fixture basically makes itself its own hood as they are usually about 18in wide which is the same width as the tank. This would make for difficult access as I cannot suspend the fixture due to the agreements made within my apartment lease.
For this fixture I plan on running these tubes in the this order:
Front
39W - 36IN ATI Blue Plus T5
39W - KZ Fiji Purple
39W - 36IN Super Actinic
39W - 36IN ATI Blue Plus T5
Back
To achieve this look: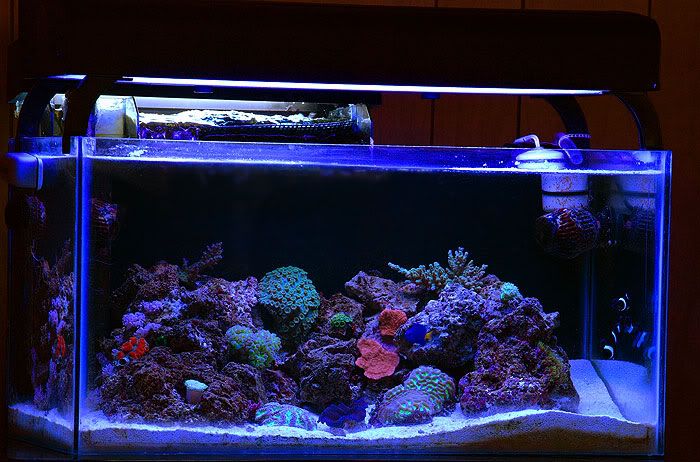 Photo courtesy of Travis at nano-reef.com
Substrate/Decor
For this build I am planning on using live sand from CaribSea or Natures Ocean. I have been thinking about choosing a darker shade sand to help contrast against the corals/fish. I do not plan on using the all-black versions as there is still some debate as to how saf those are for our systems. I plan on only using substrat to about a 1/2in to 3/4in depth. I feel in a DT anything deeper is a wast of space, especially in a tank that is only 16in tall.
I am unsure if I want to pull any of the live rock out of the 90 gallon for this project. Much of it is encrusted with various softies and LPS, and for this build, I'd like to attempt some different LPS and SPS species (Have any frags let me know!) I may try and talk Matt at OTP into maybe exchanging the large amount in the 90 for a smaller amount of more usable pieces...
So thats it for now, pictures will come plater when the camera is charged and I'm not exhausted from teaching 7th graders all day....