Discussion Starter
·
#1
·
I started this on our club forums, and I am just porting it over here to get further input from this great community
.
So my sump is leaking on my 37G and I don't want to fix it again. Instead with the help of tprivitor I have located a 125G Reef ready aquarium in Winter Park. ynot65, myself and possibly Cuba are going to head up on Sunday to pick it up.
Seeing as I am starting this early I don't have much to say about it but will post the few pictures that they have given me to show what I am expecting to have to start with.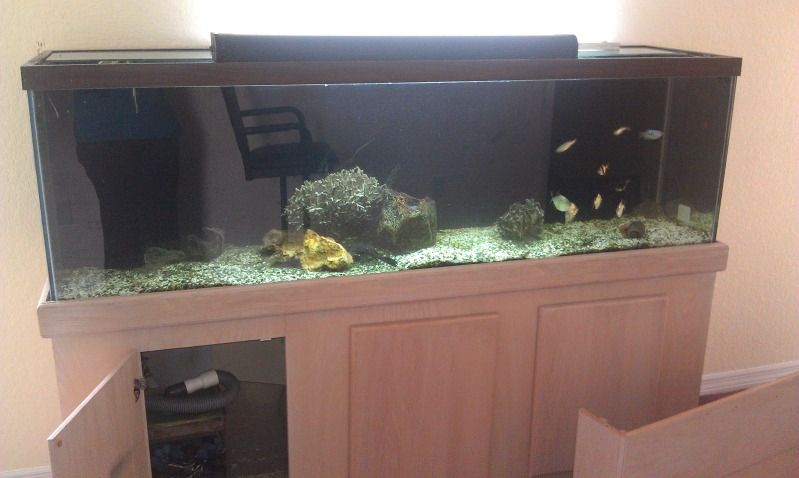 It does come with a canopy, but I am under the impression it may need a little bit of work. Overall the entire setup looks like it is in great condition.
Seeing as I am unsure of the lighting setup this comes with, I am going to assume I will need to add additional light to the setup. It has a Current USA fixture of some form based on the picture it is roughly 3ft long. I have a 24" Current Nova Pro Extreme I can use, but I am already planning to buy two 175w MH's as supplement.
This tank is being used for fresh water fish currently, so I am also assuming it has no power heads. While a reef tank can survive without the additional flow from power heads, I am planning on buying 2x JBJ 1100GPH with a wave maker to get started. I may or may not end up adding 2 more, it will just depend on how the flow works out.
There are quite a few variables left with this system as I have not seen it in person to know exactly what I am looking at. With it being a 2 hour ride, this is going to be like a goodie box for me. I have more than accepted the price they are asking for the stand/aquarium so anything else is a huge bonus.
It comes with a Wet/Dry filter but I am a fan of refugiums so I will be installing one. I just cant decide what size I will be going with until I get the inner dimensions of the stand to work with.
I will keep this thread updated as time progresses. I look forward to doing this build out and cant wait to hear the input you guys will have once I get to it in person an figure out exactly what is what.
_________________________________________________________________
Today the wife and I cleared the space where the new tank will go during our weekly sweeping/mopping.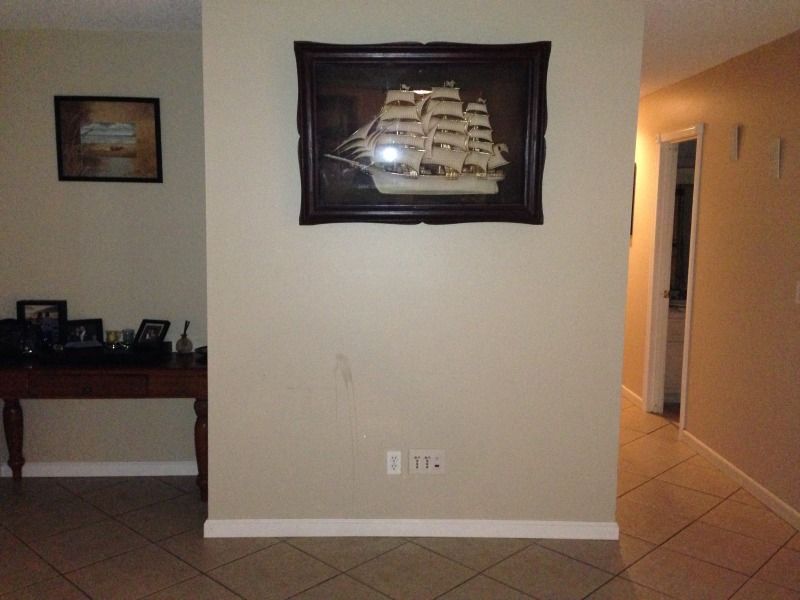 In the morning I will be going to pick up 2 175w metal halides for this tank. Then at 12 we are heading to Orlando to check out some of the fish stores and await the time when we can pick the new tank up.
I Will post more pictures tomorrow of the break down, transport and reassembly.
At this point I am still desperately in need of a few power heads, I thought I had found some for sale in TRT but the guy isn't responding. So the search continues.
_________________________________________________________________
First of all a big thanks to Cuba and Ynot65 for helping me go get the tank today. So thank you guys again!
So today I went an picked up 2 175W Metal Halides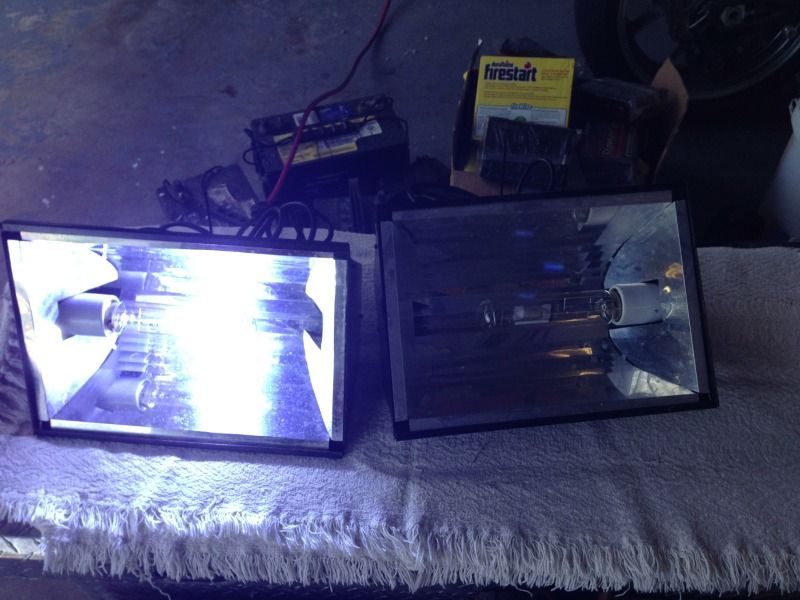 Then this afternoon we started the trek to Winter Park to pick up the tank. What we found was a bit more than I had anticipated, it appeared their husbandry on this tank was lacking to say the least.
This is what the filter floss looked like from sump.
So after getting it all drained out emptied out, we got it all loaded.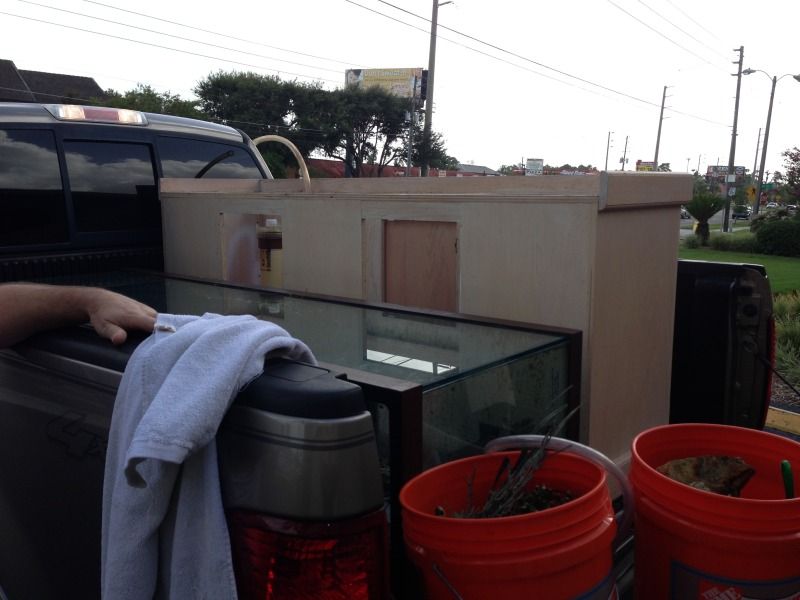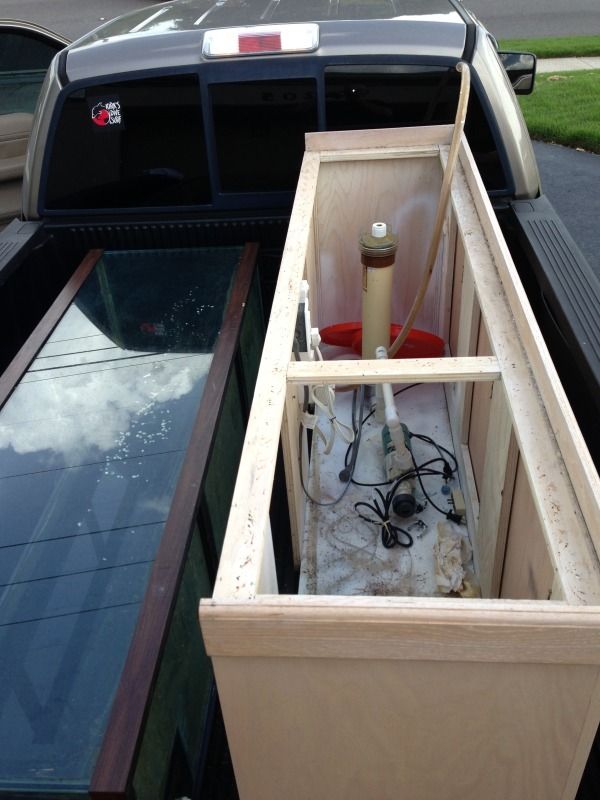 There was a LFS about a block up from where the tank was, so after stopping there for a few we started the 2 hour drive back.
It is finally rinsed out an setup in my foyer. It still needs to be cleaned out properly. It fortunately fits perfectly.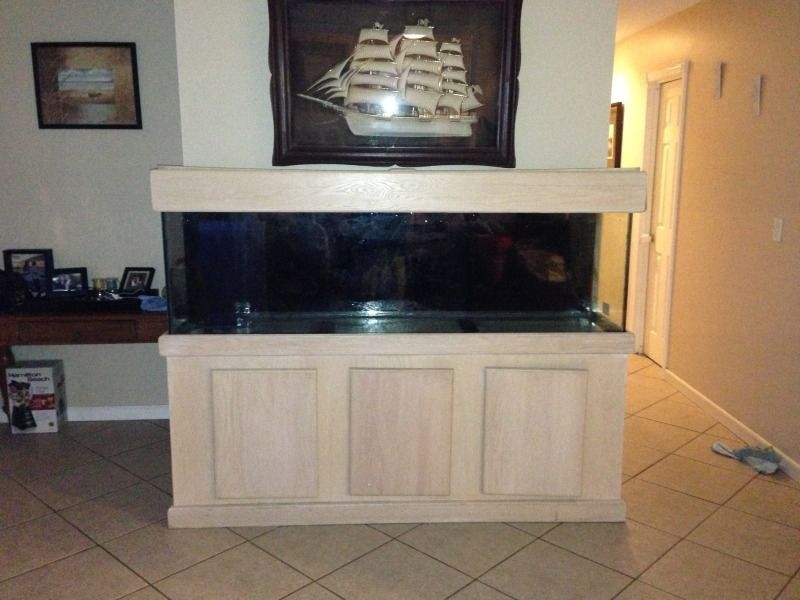 I had neglected to get a tank for the fuge, so after deliberation it was decided a 55g would fit nicely and still leave some extra room to work. This setup presents the same problem I have now though, once it is in it is not coming out. So some further thought is needed. One option we discussed was putting a door on the side for removal if required.
I now have a 55g to get to work with immediately thanks to Cuba.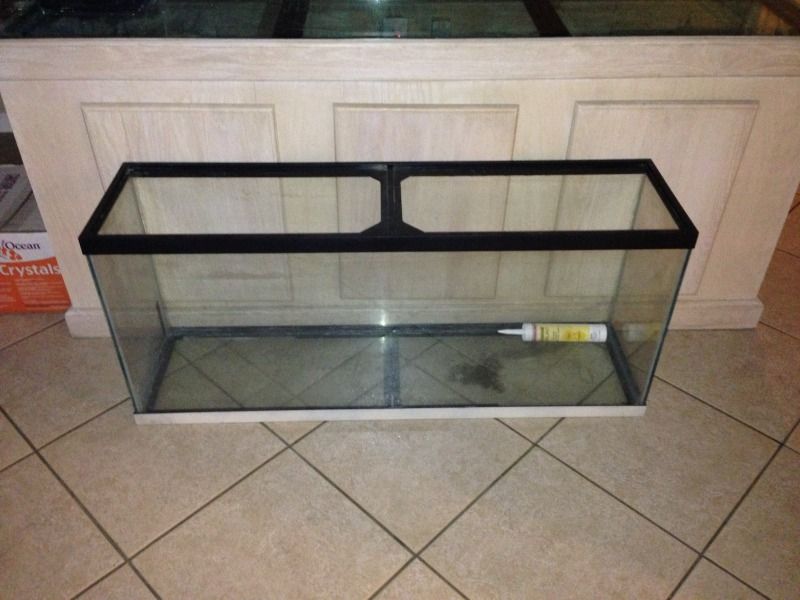 I still need to locate one to replace this with, but it will at least get me started in the right direction for the time being. Unfortunately it was to late to stop at home depot and get acrylic to start the baffles, but this may have turned out to be a good thing as it was rather late by the time moving it rinsing it and setting it all back up.
Tomorrow Nelson is going to come back over and help me setup the baffles. Hopefully I will be able to get the DT cleaned an start putting the RODI water in it.
I will update this thread as time progresses.
_________________________________________________________________
So the canopy is only 4" tall, so I am considering options in how to raise it so that the halides will be usable and hidden. They are 5.5" tall.
I went an looked around home depot and found some 1x12's that may work to raise it. I will have to crunch numbers and see if that is going to put me at least close to being high enough off the water.
My current thoughts are to have them 8-10" off the water, what do you guys think?