Discussion Starter
·
#1
·
ok, this is what i have in my tank... millions of them!!!!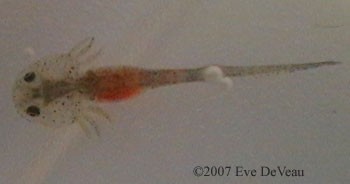 i just upgraded my system from 29 gal, to a 89 gal system about 1 and a half months ago. i used all new water except about 2 gal, because of contaminates.
i always use frozen brine shrimp, never live.... i did not have these larva in my other tank. and i have not added anything new to my system since i upgraded. where could they have come from?????
are they brine shrimp larva??? i also do not have any pairs of fish, so they can't be fish or shrimp larva...
the reason i found them, is i was doing a night feeding of corals, and the corals and the fish have not been eating like they have always done, since about 2 weeks ago. so i was watching them eat something in the water (i didn't feed them yet) and when i put my LED flash light in the water, there where thousands of the light seeking larva...
so i got some under the microscope and they look just like that picture..
???? how did they get in there?
and its making my tank cloudy....