Discussion Starter
·
#1
·
Well my tank is about to be 6 months old so I figured it was time to start a build thread...
First a little background.
I started with a JBJ 24gal Nano tank back in March of 2010. My friend told me when I bought the tank that he gave me 6 months before I upgraded to a larger tank... He was right, except I only made it a month before I bought a second tank. I found a great deal on a RSM130D from a neighbors son that got out of the hobby. It came with tons of rock and other items. I had originally set the RSM up as a FOLR tank and kept the JBJ as a reef tank but then ran out of room in the JBJ so I found people to adopt the non-reef safe fish and made the RSM into a reef tank. Over the course of a year and a half I upgraded the RSM to have a sump with fuge, a better skimmer and lighting. Here is a comparison picture over time.
I love the tank so much but lost my time to take care of it while I purchased a new house and remodeled it. During that time I had a HUGE red bubble algae outbreak and couldn't overcome it.
I knew I wanted to get a larger tank and had grand plans with the new house. There was a closet that separated the living room from the dining room and I wanted to remove it and install a custom 210 gallon tank that would be a peninsula with the overflow on one end but the house needed a lot more work than I thought originally and funds were not there. We also decided that the closet space was needed and it would be better to do a 4ft tank in the living room. I knew the whole time that the sump would be in the basement and we decided to go with a 75 gallon tank with a 100 gallon sump and a 20 gallon fuge. I purchased the tank from a friend that has a wholesale account in Madison and a 100 gallon stock tank from Tractor Supply, then the fun began.
Over the past year I knew I would want a larger tank at some point so I stocked up on some great deals when I found them. I found a used ETSS 800 skimmer on Ebay with the waist collection jar for $250 which is a STEAL! I also found a guy that works for iwaki on a forum and bought two iwaki 70's for $180 shipped which is cheaper than buying one alone.
During the setup of the new tank I removed all of the corals and fish I wanted to keep and put them in a QT tank in the basement. I knew there were a lot of things I did not want in my new tank that I had purchased for the old (mushrooms, buttons, snowflake, and star polyps for example) I removed as much as I could from the rocks and gave them away to fellow reefers in the area.
I started off by setting up a temporary sump in my basement to house the fish and the saved corals, I then took almost all the rock and did an acid bath on it. There were a few pieces that didn't get any light and didn't have any red bubble algae on it and wanted to keep it separate for seed rock. While I did this I got the DT ready along with the sump. Once the rocks were cleaned I put them into the new sump to cook them with the good rock i removed from the old tank.
Here is a picture of me working on the plumbing (Thanks to Angela for sneeking up on me)
For the DT I built a stand out of 2x4's and planned on wrapping it with wood to match the rest of the house (Has yet to happen so I currently have a ******* stand) I drilled two hole in the floor under the carpet so I can put the room back to the original state in the future if I need to.
Here is a picture before water was in the DT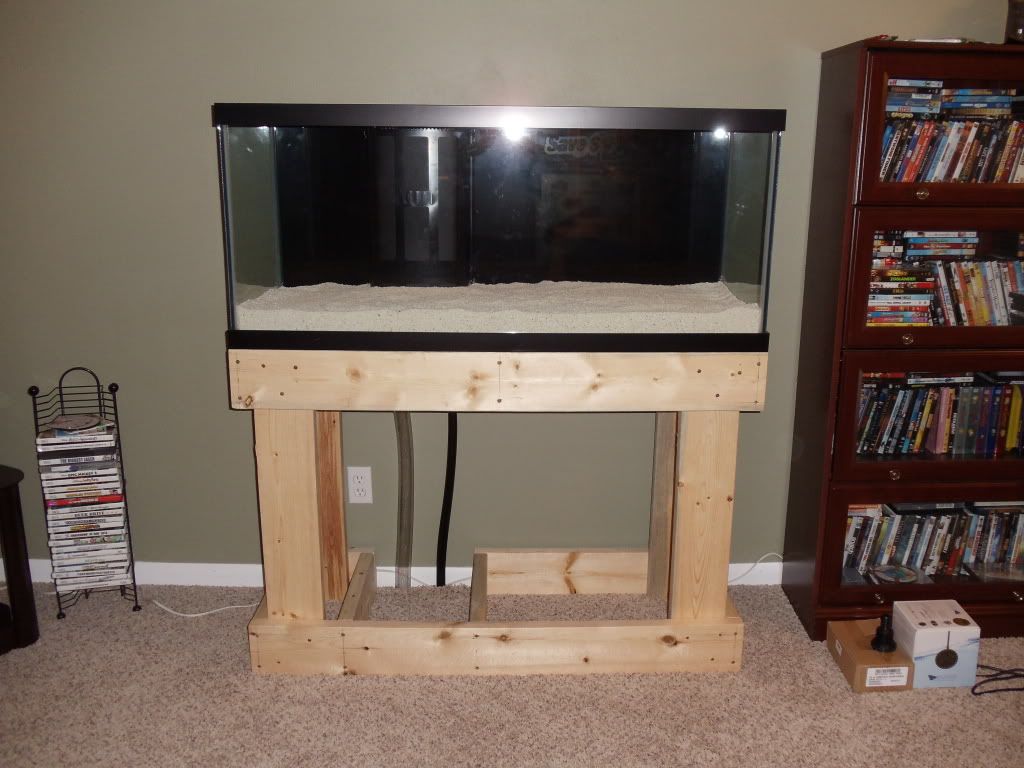 Once the rock was done cooking I started to fill the DT with water and let the system run for a few days before turning the valve to send the water upstairs.
Here is Destiny helping me fill the tank
And Angela with the camera again..
I never had a cycle since everything was running already and soon moved the rock and livestock to the DT.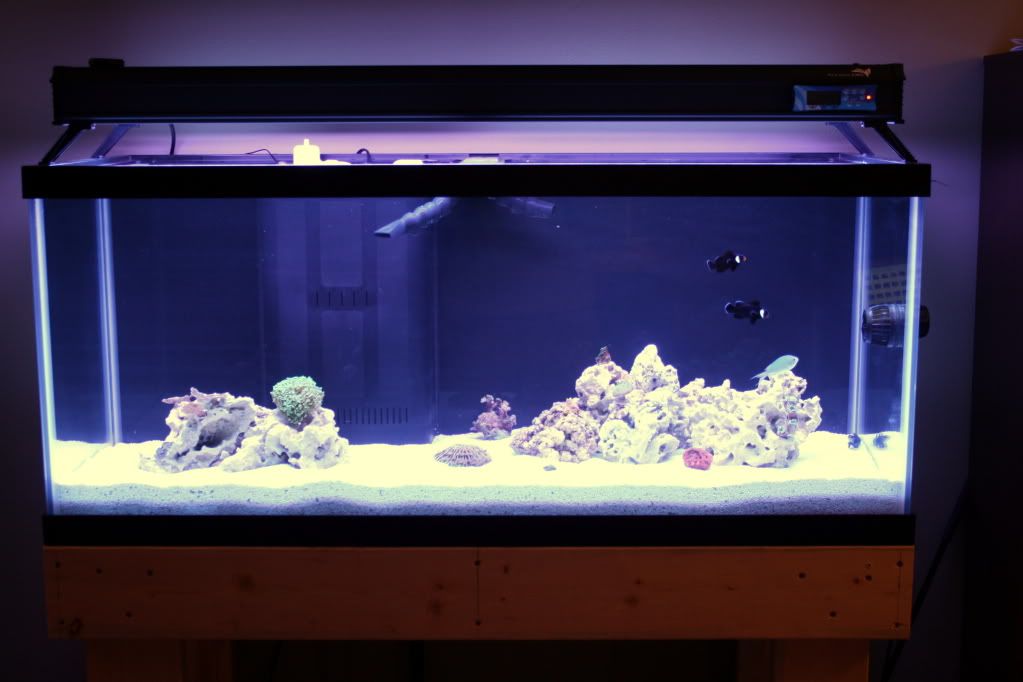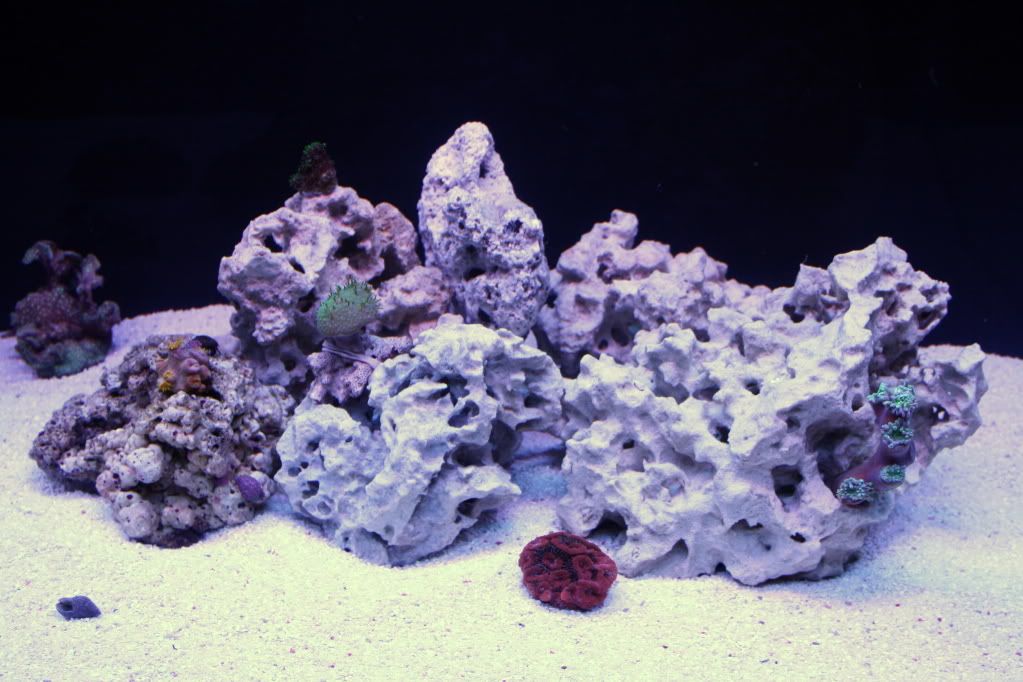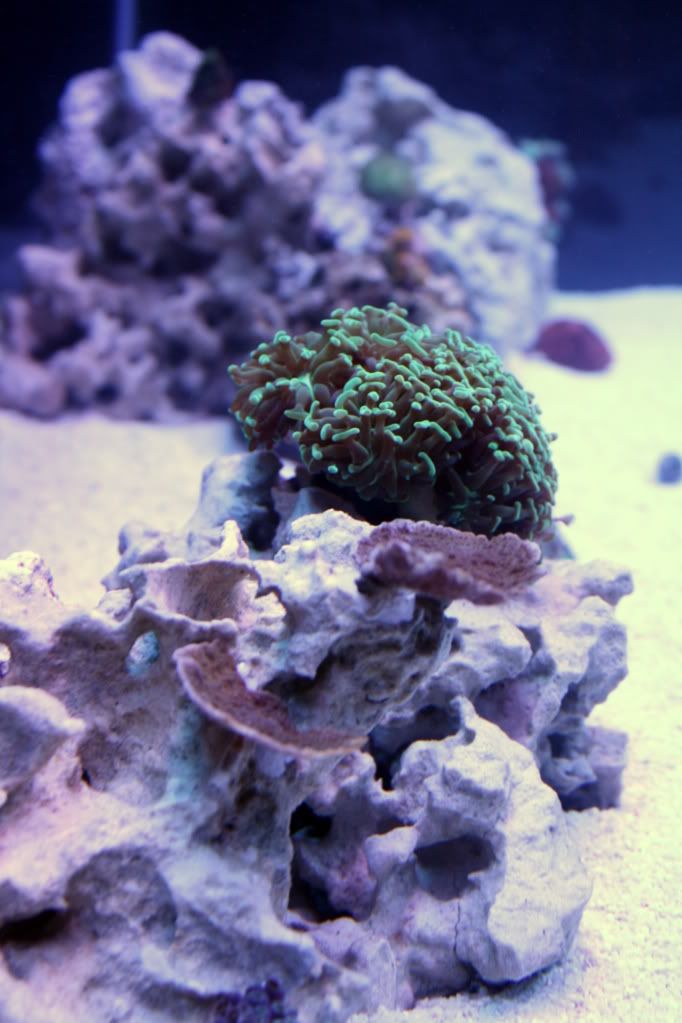 I added some new corals and fish and everything was going great until I bought a fish from a fish store I trust and have had great luck with in the past. I made one HUGE mistake and never QT the new fish....
Days later I noticed the fish had ick and started to look bad. I started to remove the fish and put them all in QT to start hypo on them but they were too infected. I lost one by one until they were all gone but one. I lost a mated pair of extreme mis-bar clown, Yellow Kole Eye Tang, 3 Anthias, 2 Mandarin and a Yellow Watchman Goby. Needless to say this made me sick!
I let the tank sit without any fish for over two months before buying another fish, and yes it was from OTP.
I have since purchased some more corals as you can see, some from fellow club members and some from F&S during their tour. Here are a few pictures: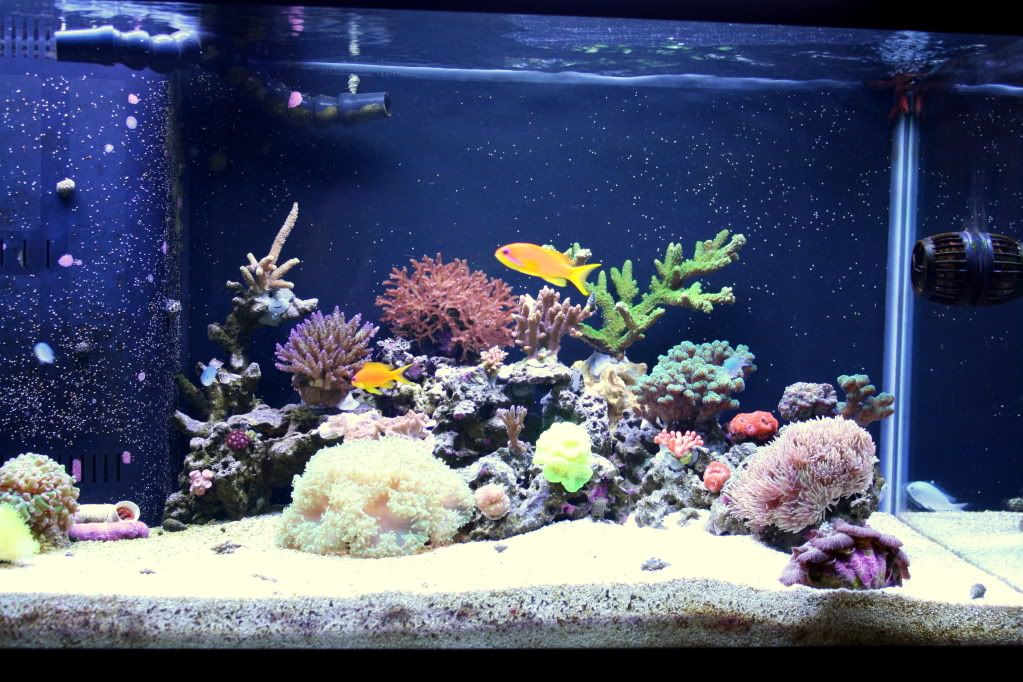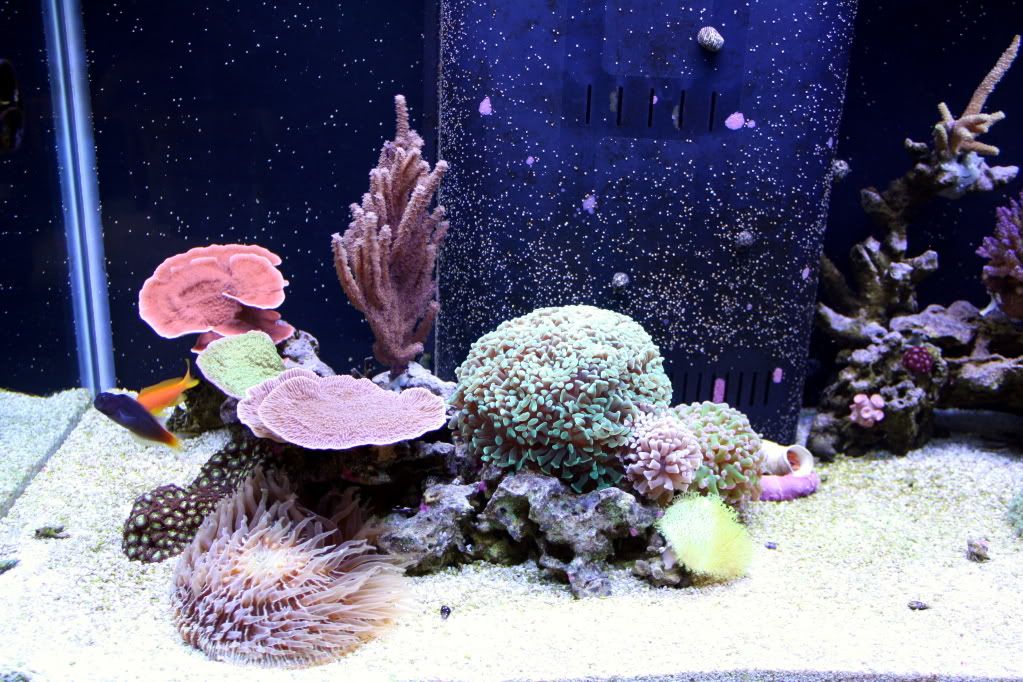 To see more picture check out the link:
http://photobucket.com/ithkreef
Let me know what you think!
Steve