I keep 2 rubbermaid containers full of RO/DI water next to my 75 gallon FOWLR aquarium with the lids on on them. About 3 weeks ago I was walking by my aquarium and noticed something didn't look right. The bucket I use for collecting RO/DI water was inside the large rubbermaid container...along with the $400
pressure booster pump
for my RO/DI. I'm not sure if one of my cats decided to jump up there and knocked the lid off, but the pump is ruined. I tried opening it up and draining as much water out as I could and let it dry for a week, but the pressed bearings are shot and non-servicable.
So now it's a royal pain to filter water for the saltwater aquarium, and I'm not planning on replacing the pump anytime soon. For a 110 GPD filter it took all day yesterday to get around 12 gallons of water. With the pump I used to get around 30 gallons in 6 to 8 hours.
I told the wife I was thinking about catching the clowns and taking them to the LFS for some store credit and converting to Malawi African Cichlid tank as long as I can re-use most of the equipment I allready have.
Here's the equipment I already have:
75 Gallon Reef Ready AGA (Bare Bottom)
29 Gallon AGA Sump
260 Watts PC Light (2-10k 2-03 Actinic)
2 - 1500 GPH SEIO pumps for water circulation in the display tank
1 - Mag 7 sump return pump
1 - 300 watt submersible heaters
1 - Remora Pro HOB Protein Skimmer (Obviously I won't be using it, but I can scavange the mag 3 if needed for something else.)
1- Phosban Reactor used for running carbon every once in a while.
90 LBS of Live Rock (Tonga, Khalini, Fiji)
My tank almost a year ago: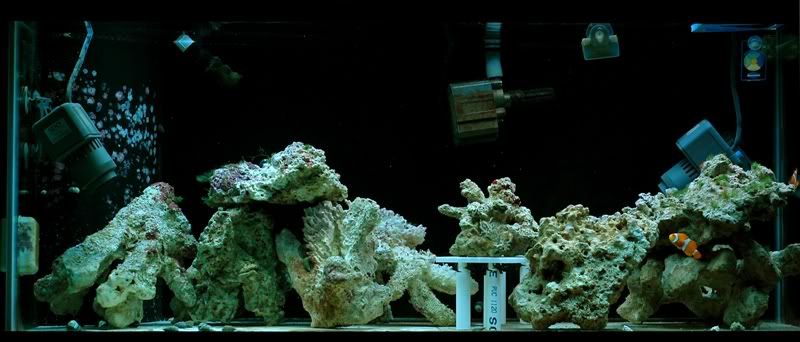 I'm planning on "cooking" my rocks again, but in fresh water this time, and using them since they're calcium carbonate.
So my questions are, how much water flow do you really need for a Malawi tank? Do they like a lot of random water movement or is lower flow needed?
Do you really need any other type of
mechanical filtration
besides a siphon hose?
How clean do they like the water? Less poop=less phosphates released=less algae. I would imagine the less DOC the better.
Will they tolerate a bare bottom tank? If not, how thin of a layer of crushed coral can I put in. If I have to add crushed coral just for helping to buffer the water, I've got a 10 gallon compartment in my sump that I can use. I was thinking about rigging a 1/2" PVC pipe diffuser attached to a powerhead, kind of like a reverse UGF or calcium reactor if needed.
What are most people using to buffer their water?
Has anyone set up an African Cichlid tank using saltwater methods? As far as I can tell all the water parameters are exactly the same, except salinity.
Let me know if I'm missing anything or if there is something I should be considering.
Kevin