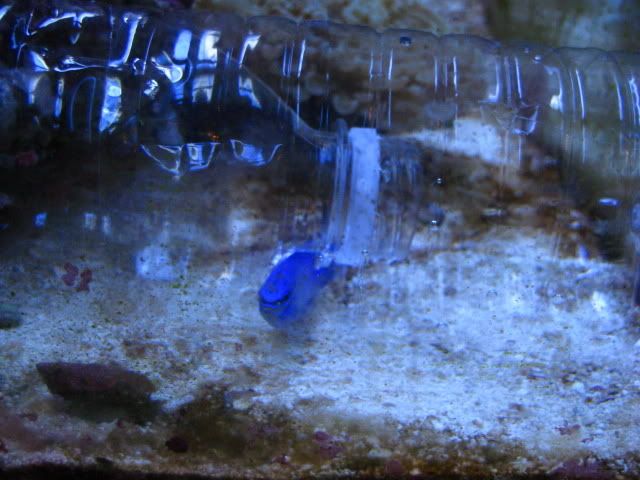 As some of you may know, my 55 gallon saltwater tank has a mantis shrimp that has taken three fishes as dinner or dessert already. I've set up a trap and a bait to lure him in, but the mantis didn't budge. Next, I used live bait. I bought a damsel, which I knew was going to fit through of my inverse bottle trap, but I was definitely crossing my fingers on him staying in the bottle. The first couple of hours was fine, the damsel sat and wait and possibly agitated. A few hours passed, I went to check on my tank as I catch a glimpse of the damsel flying across the tank!
Talk about being agitated.

I've lost my bait in the tank and completely lost the mantis. Did I mention that I didn't know exactly where the mantis was, but I did heard popping noises AND of course I couldn't "miss" the "missing" fish, now could I? Anyway, Traci from Petco, came over to help me get rid of this pest. She was hoping to keep him as her "pet". Talk about someone's trash being someone else's treasure. Nevertheless, the night ended in smashing the rocks, dipping the rocks, and spying on the rocks. Every step was carefully planned, well ok maybe not.  By the end of the night, we both thought we were seeing mantis, hearing mantis, and definitely speaking mantis. Oh and the result? Mantis 1 and T&A 0.
Maybe I'll have better luck next time!
TrackBack URI for this entry
Subscribe to this comment's feed